In China's Cooled Economy the Property Market Temperature Depends on Where You Are
Early year hopes that China would quickly resume its role of world economic growth engine have failed to materialize, and it is now clear that more time is needed for the nation's economy to return to its old form. The overall economic trend currently is a slowing of growth.

In many market segments, this slowing growth is accompanied by a trend of trading down, with consumers placing more emphasis on affordability and value for money when making purchases. They are also spending less overall, choosing to save money as they continue to feel uncertainty about the future.

With regards to the purchasing and renting of property, however, trading down and choosing to save are not the primary trend across all market segments.

What Trading Down Looks Like
One area where current consumer trends show clearly is e-commerce. From Q1 2022 to Q1 2023 the group buying platform Pinduoduo enjoyed significant quarterly revenue growth rates of 7.2%, 36.5%, 65.1%, 46% and 58.2%, respectively. On the flip side, JD.com, renowned for high-quality products, saw declining quarterly revenue figures during the same period: 17.9%, 5.4%, 11.4%, 7.1% and 1.38%. Apparently, consumers are switching to affordable channels and more aggressively seeking discounts and promotions.

Trading down is also evident in China's tourism industry where domestic travel has surged, but per capita tourist expenditure has decreased. Domestic travelers have been especially keen on third and fourth-tier cities that offer quality experiences at a reasonable cost. A "2023 Tiktok Travel Experience Survey" revealed that 97% of respondents planned to increase domestic travel this year, with a significant focus on local trips, while only 16% indicated an intention to increase outbound travel.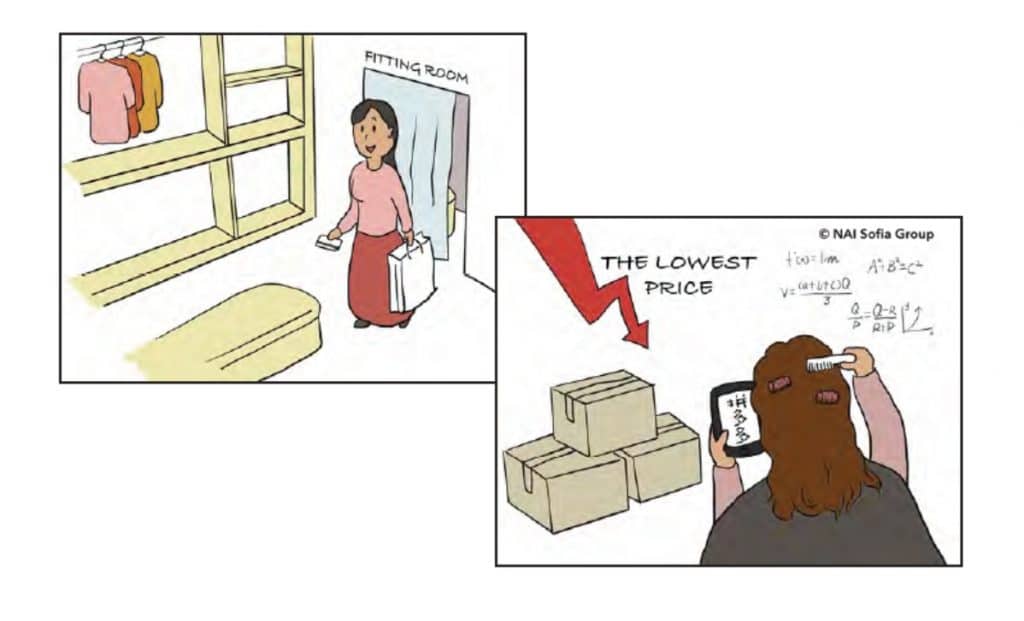 Eastern City Homes Still Selling Amid Sluggish National Market
Data from China's central bank shows that a substantial majority of bank depositors are choosing to save more of
their money, and this choice is reflected in an attitude of caution throughout the country when it comes to purchasing
residential property. In terms of total square meters of housing sold during the first half of 2023, sales have declined in all regions except the eastern seaboard.

In Shanghai, transactions of new and second-hand homes have stayed at moderate levels even in the face of rising prices,
and with the government introducing new policies to further support the housing market it seems that buying activity will stay robust in the second half of the year.

The new government policies intend to boost transactions and include things like lowering the required initial down
payment. However, the policies may take time to spur greater construction activity and investment in new residential
projects, which have fallen sharply nationwide.

Shanghai Office Market Rents Falling in Non-Core Areas
In the decade following the 2008 financial crisis the Shanghai office property market consistently rewarded landlords with rising rents. This narrative shifted in the latter half of 2019 as a flood of new supply started to flatten out the rental growth curve. In the current year we are seeing another discernible shift, with office rents in overall decline. This can be attributed to numerous factors, including the enduring impact of the pandemic on market dynamics.

Looking more closely at the data, it's evident that rents have declined much less in Shanghai's core business districts than in the non-core areas away from the city center. In the latter, many landlords have reduced rents by more than 5%. An influx of new office buildings and perhaps weaker overall resilience of tenant businesses are among the factors driving down rents in the noncore areas.

Reaching for Resilience
The 2023 McKinsey China Consumer Report released last December noted that despite economic decline during the
pandemic, China's economy still has many sources of resilience, including a huge and still-expanding middle class, continued strong interest among foreign investors and the growing strength of Chinese enterprises that now out-compete their foreign counterparts in most areas of the domestic market.

Readers may consider these as reasons to still be hopeful towards doing business in China.